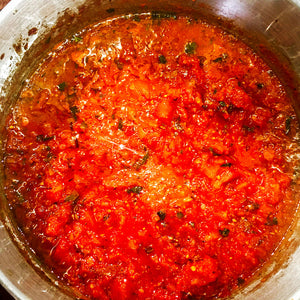 Esta deliciosa combinación de pimiento rojo asado, ajo asado, hierbas frescas y tomates es el compañero perfecto para su cena de espaguetis o noche de pizza.
Instrucciones de cocción: Retire la jarra del congelador y descongele. Si lo usa para pasta, vierta la salsa en una olla. Cocine a fuego lento, revolviendo ocasionalmente, hasta que esté completamente caliente. Mezcle con la pasta cocida y sirva. ¿Hacer pizza? Extienda la cantidad deseada sobre su masa, agregue los aderezos y hornee.
Ingredientes: Tomates, pimientos rojos, pasta de tomate, ajo, cebolla, albahaca, romero, orégano, sal y pimienta.
---
This delicious combination of roasted red pepper, roasted garlic, fresh herbs, and tomatoes is the perfect partner for your spaghetti dinner or pizza night. 
Cooking Instructions: Remove jar from the freezer and defrost. If using for pasta, pour the sauce into a pot. Simmer on low heat, stirring occasionally, until heated through. Toss with cooked pasta and serve. Making pizza? Spread the desired amount on your dough, add toppings and bake. 
Ingredients: Tomatoes, red peppers, tomato paste,  garlic, onion, basil, rosemary, oregano, salt, and pepper.