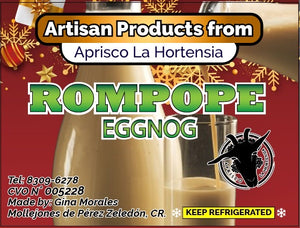 Rompope Leche Cabra Biologico
Listo para las actividades festivas, Aprisco La Hortensia elabora un rico y cremoso rompope con saludable leche orgánica de cabra y especias tradicionales. Servido caliente o frío, es un regalo festivo para toda la familia.

Disponible estacionalmente.

Leche de cabra ecológica, azúcar orgánica,  vainilla natural, especias tradicionales naturales, azúcar ecológica Contiene leche,
Biologuique Goats Milk Eggnog
Here just for the holidays, our rich and creamy eggnog is made fresh by Aprisco La Hortensia with wholesome goats organic milk, and traditional spices. Served warm or cold, it's a festive treat for the whole family.
Available seasonally.
Organic goats milk, organic sugar, organic whole eggs, natural vanilla, natural tradicional spices, organic sugar Contains milk,