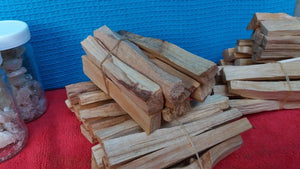 Palo Santo
Proviene de un proyecto de reforestacion en la costa de Ecuador. Solo se procesa madera muerta naturalmente que se ha encontrado en el bosque. El arbol crece durante 40 anos, muere y se deja en el bosque durante varios anos mas antes de ser recolectado. 
Para calmarse y relajarse. 
Palo Santo
It comes from a reforestation project off the coast of Ecuador. Only wood dead naturally is processed that has been found in the forest. The tree grows for 40 years, dies and is left in the forest for a period of several more years before being collected.
To calm down and relax.