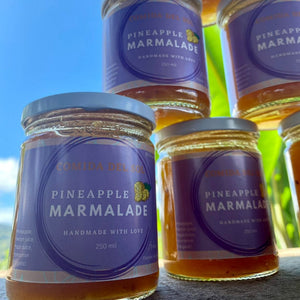 ¡Hecho fresco con las abundantes piñas y caña de azúcar de Costa Rica!
Esta mermelada dulce y picante es el complemento perfecto para cualquier tabla de embutidos.
¡Hecho con productos 100% orgánicos y amor!
Sin pesticidas y preservantes
* Refrigere después de abrir
Made fresh with Costa Rica's abundant pineapples and sugarcane!
This sweet and tangy maramalade is the perfect addition to any charcuterie board.
Made with 100% organic products and love!
Pesticides and preservative free.
Refrigerate after opening.