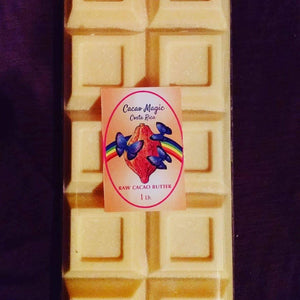 Raw cacao butter has great benefits eaten or applied to your skin.
Raw, cold-pressed oil of cacao beans from the Caribbean coast of Costa Rica, full of nutrients and live enzymes.
On your journey to vibrant health, this superfood is an amazing source of healthy fat, loaded with selenium and magnesium.
Boost your mood, balance your hormones, increase your immunity and metabolism.
Use it to make chocolate, smoothies and raw treats.
Moisturize your skin daily and wonderful for massage and intimacy.