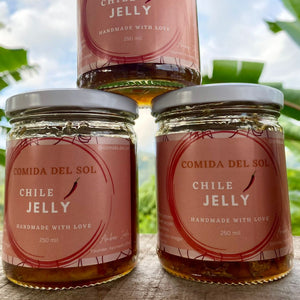 ¡Una gelatina deliciosa y ardiente que combina Chile Panameño y Chile dulce para alcanzar esas perfectas notas dulces y picantes!
¡Delicioso con queso de cabra, queso crema, galletas saladas o tostadas!
El complemento perfecto para cualquier tabla de embutidos.
¡Hecho con productos 100% orgánicos y amor!
Sin pesticidas ni conservantes.
Refrigere después de abrir.
let's spice it up!
A delicious and fiery jelly combining Chile Panemania and Chile dulce to hit those perfect sweet & spicy notes!
Delicious with goat cheese, cream cheese, on crackers or on toast!
The perfect addition to any charcuterie board.
Made with 100% organic products and love!
Pectin and preservative free.
Refrigerate after opening.