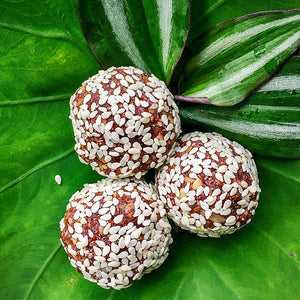 ¡La última incorporación a nuestra línea! Estas bolas energéticas de jengibre y canela, endulzadas con dátiles, son simplemente difusas con cacao de origen local.
Ingredientes: Cacao, dátiles, avena, mantequilla de maní, semillas de sésamo, semillas de girasol, semillas de chía, semillas de lino, coco rallado, jengibre, canela, vainilla y sal.
8 bolas
---
The newest addition to our line! These ginger and cinnamon-spiced energy balls, sweetened with dates, are simply decedent with locally sourced cacao. 
Ingredients: Cacao, dates, oats, peanut butter, sesame seeds, sunflower seeds, chia seeds, flax seeds, shredded coconut, ginger, cinnamon, vanilla, and salt. 
8 balls