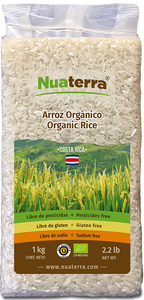 Estamos orgullos de diferenciar nuestro arroz de una forma responsable con nuestros clientes y el ambiente, produciendo un arroz orgánico de la mejor calidad. Seguimos la normativa orgánica de Costa Rica, el reglamento Europeo (CE).
Hemos realizado un gran esfuerzo para innovar con un empaque al vacío que protege mejor las cualidades del producto antes de su consumo.
El precio es por kg.  Price is per kg.  

~~~~~~~~~~~~~~~~~~~~
White  Organic Rice

We are proud to differentiate our rice in a responsible way with our customers and the environment, producing an organic rice of the best quality. We follow the organic regulations of Costa Rica, the European regulation (CE).
We have made a great effort to innovate with a vacuum packaging that better protects the qualities of the product before consumption.
The price is per kg. Price is per kg.